The new standard in entry-level professional wireless systems, built on decades of excellent wireless technology, now more reliable than ever.
SLX-D® Digital Wireless delivers transparent, 24-bit digital audio and rock solid RF performance with easy setup and rechargeability options in a suite of versatile wireless system configurations. Featuring industry-leading digital wireless technology and design, the SLXD2 easily syncs with a wireless receiver. A variety of interchangeable vocal microphone choices guarantees the right solution for a wide range of applications, from day-long presentations to nighttime performances.
Shure SLXD4 Features:
Transparent 24-bit digital audio
Extended 20 Hz to 20 kHz frequency range (microphone dependent)
118 dB dynamic range
Digital predictive switching diversity
Operating range of 100 m (300 ft.)
44 MHz tuning bandwidth (region dependent)
32 available channels per frequency band (region dependent)
Up to 10 compatible systems per 6MHz TV band; 12 systems per 8 MHz band
Easy pairing of transmitters and receivers over IR scan and sync
Up to 8 hours from 2 AA batteries. Upgrade to the optional Shure SB903 Lithium-ion rechargeable battery to monitor battery charge status in hours and minutes, as well as battery life and health statistics.
Interchangeable microphone capsules
Ergonomic and durable plastic construction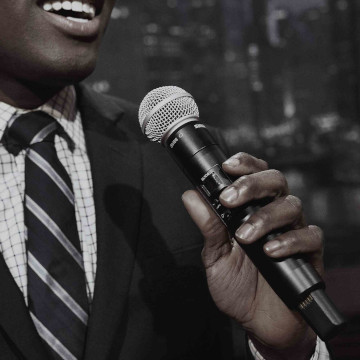 WHY ITS BETTER
Always come through clear; in front of an audience, clarity is simply essential. SLX-D provides crystal-clear digital audio quality with >120 dB dynamic range. Dropouts are out! From the leader in digital wireless technology, SLX-D maintains stable signals with high efficiency for rock-solid, reliable performance. Keep the show going with ready to perform for all-day presentations and nighttime performances—up to 8 hours of use from either 2 AA batteries (included) or optional Shure SB903 Li-ion rechargeable batteries and charging accessories.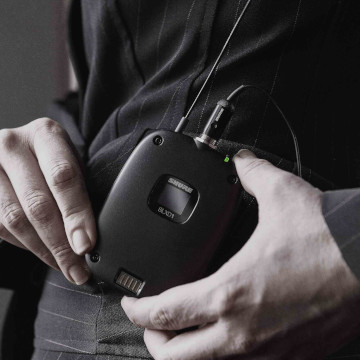 QUALITY THAT'S IN THE DETAILS
-Use RF scan and IR sync and be ready to go at the push of a button. Or follow the guided frequency setup tool embedded in every SLX-D receiver. -First-class selection of handheld, lavalier and headset microphones for up to 32 compatible systems per 44 Mhz band.* *Performance may vary depending on country regulations and operating environment. -Link multiple systems locally via Ethernet to manage setup, group frequency scans and firmware updates. -Use with Wireless Workbench® software and the ShurePlus™ Channels mobile app for critical oversight and real-time control of your production. -Install-friendly, with a clean profile—rack hardware included
Shure SLXD4 Downloads
Manual - As of 7/31/23

Product documents are provided as a courtesy and may not reflect the most up-to-date information. Please contact us for the most up-to-date information.