Powerful and Ergonomic At Your Fingertips
TASCAM has a long history of high-quality digital mixers, culminating in the legendary DM-4800, the work mixer setting a new standard. With TASCAM Sonicview, TASCAM has created a whole new line of digital mixers and recorders that combine the latest technology and make it easy to see and control all the parameters you want, when you want, with a display Full-featured touch screen. User definable. buttons, as well as motorized levers and intuitive control software.
The TASCAM Sonicview recording mixer seamlessly integrates with the rest of the system thanks to integrated Dante networking, a 32-bit/96kHz multi-channel USB audio interface, built-in multi-track SD recording (U.S. version only), and multiple I/Os. Exceptional sound quality, including 54-bit floating-point FPGA mixing, combined with extensive signal processing, expansion slots for additional connectivity, and wireless remote control to make the mixer a recording TASCAM Sonicview becomes the next generation choice for touring, installed sound, studio and broadcast.
Truly the next generation of mixing user interfaces, the powerful, intuitive TASCAM Visual Interactive Ergonomic Workflow (VIEW) system lets you quickly and easily configure the Sonicview 16XP's dual touchscreens.
Using the VIEW user interface, there are three different ways to view your settings, and each touch screen can be configured independently so you can monitor and control any combination of settings you choose. want, in the screen you want, at the time you want. For example, you can monitor the levels of eight voice channels on Monitor 1, and adjust the parametric EQ to an empty sub-mix on Monitor 2.
Tascam Sonicview 16XP Features:
FPGA Mix Engine + 32-Bit / 96 kHz AD/DA
Dual 7" Touchscreens + Motorized Faders
16 HDIA Microphone Preamps
16 XLR Mic/Line Input Channels
8 x 1/4" Line Inputs + 2 x 1/4" Inserts
16 XLR Bus / Outputs
11 Processing Functions per Input
Including EQ, Dynamics, Filter, and More
32-In x 32-Out USB and SD-Card Recording
Four Stereo Effects Engines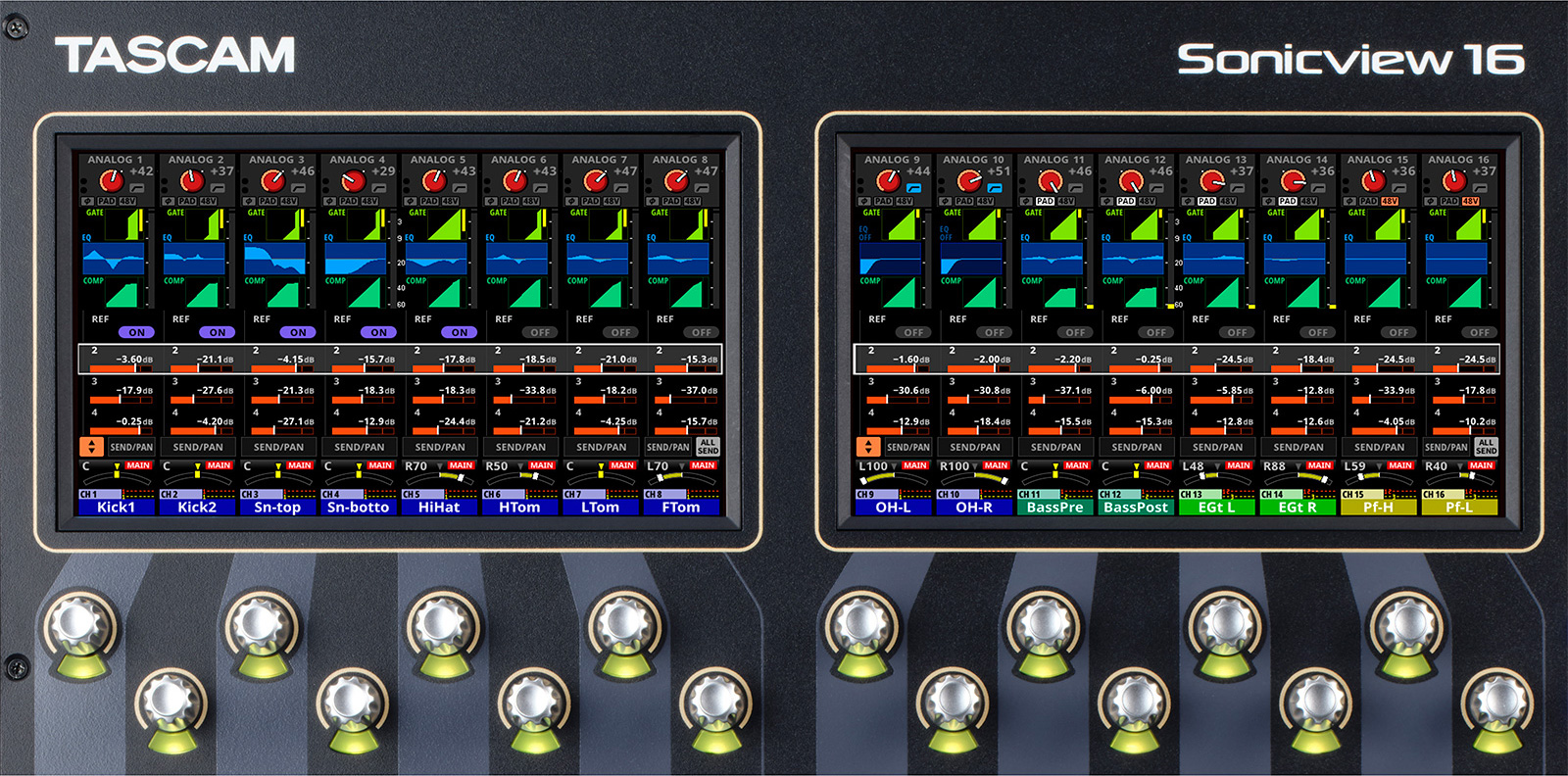 Channel Strip View
Channel Strip View lets you monitor and control eight adjacent channels, and view them as virtual channel strips like an analog mixer layout.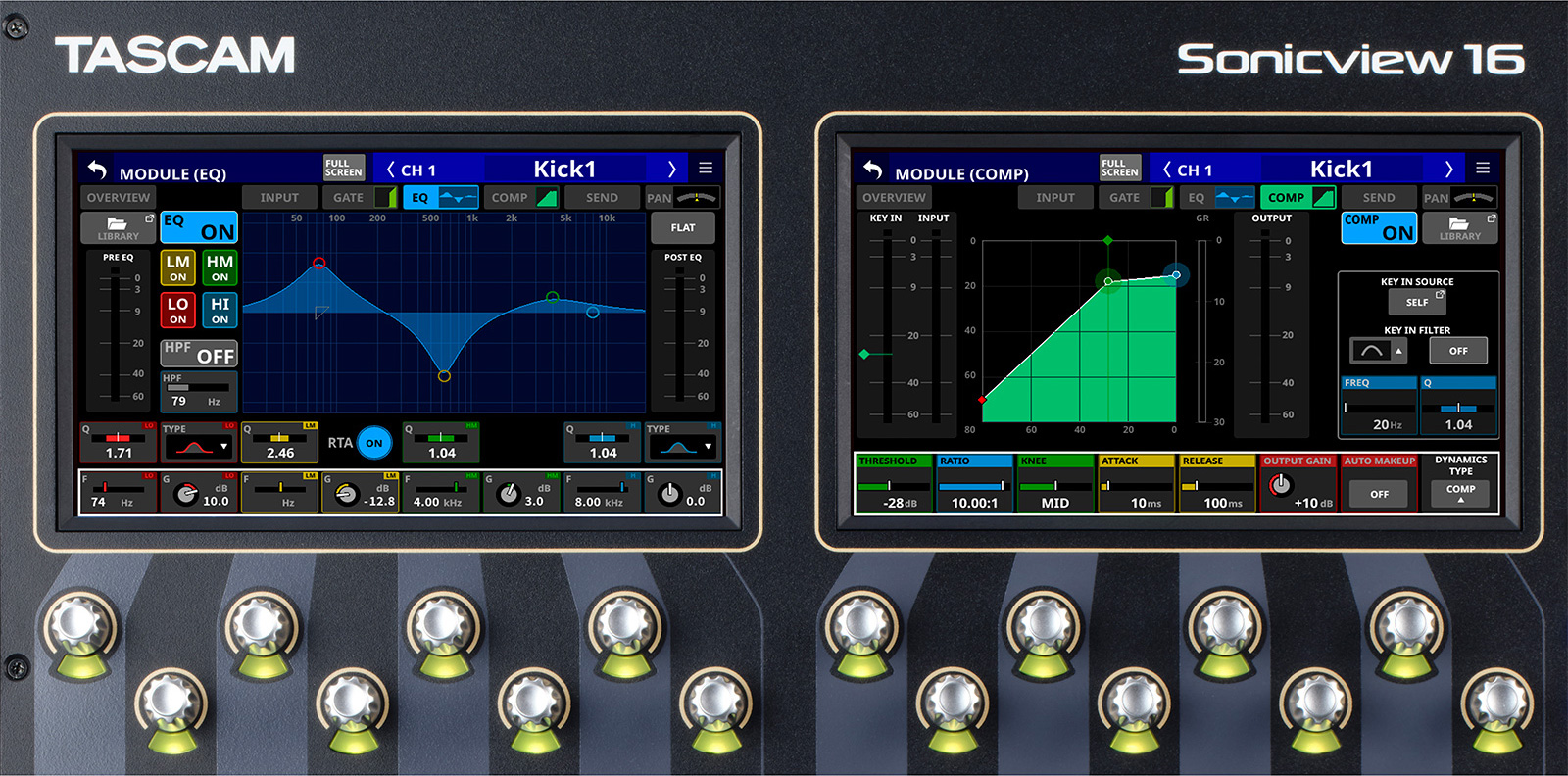 Module View
Module View lets you monitor and control any two sets of parameters simultaneously for one single channel..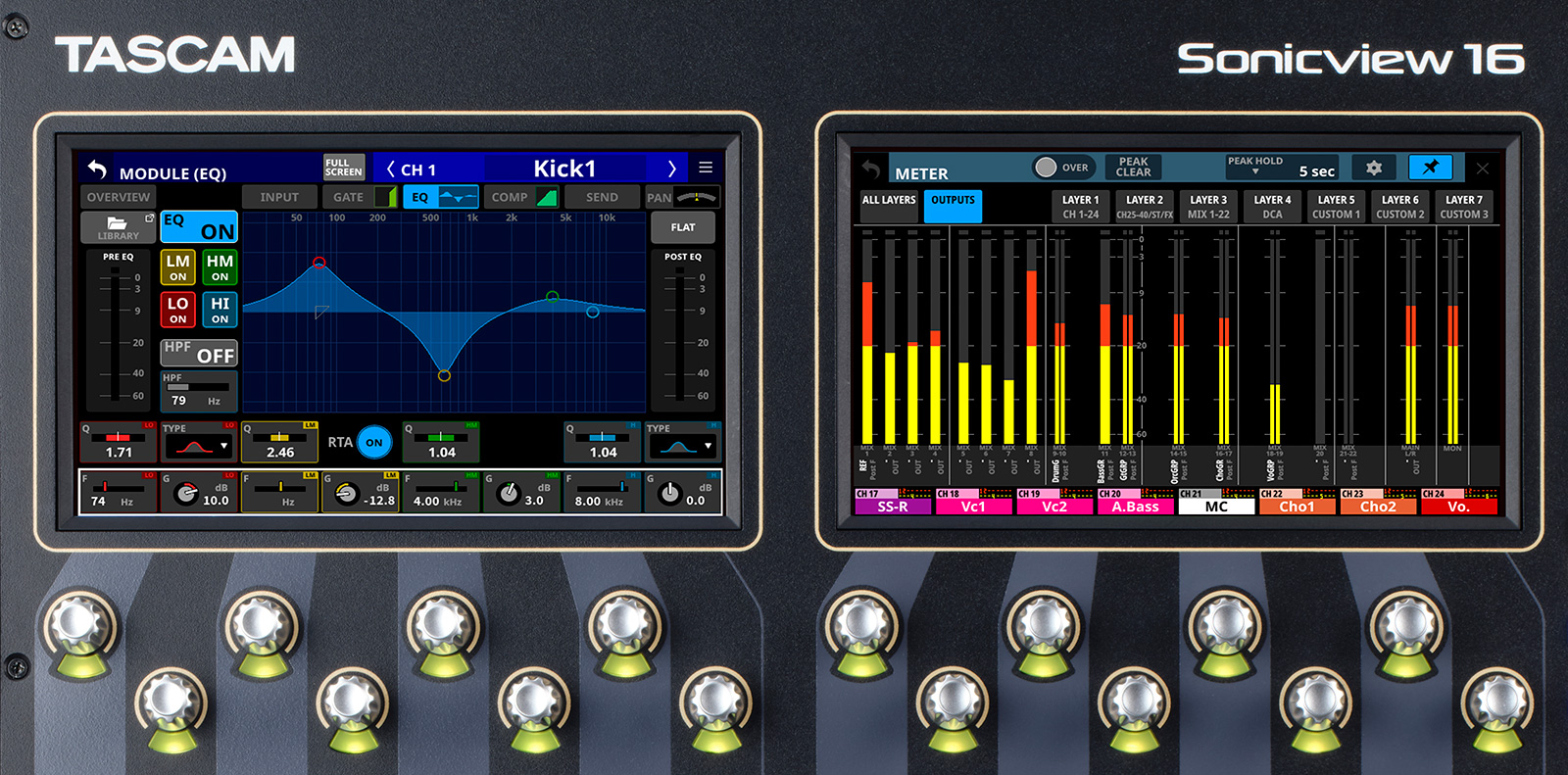 Individual View
Individual View lets you monitor and control a custom selection of functions for any channel or group of channels.
Number of Analog Input: (16 Mono)
Number of Mic Preamps: 16
Number of Analog Output Channels: 16
Max I/O Capacity: 44 x Input / 55 x Output (with Optional Hardware)
Mix Routing: 1 x Main LRC, 4 x Mono Subgroup, 4 x Mono Aux Send
Groups: 8 x DCA Group
Presets: None
Display: 7" LCD Touchscreen
Display Resolution/Color: Main Display: 800 x 480 / RGB Color, Channel Display: 384 x 68 / Monochrome
Faders & Level Adjustment: 17 x 3.9" / 100 mm Motorized(Touch Sensitive)
Meters Main Meter: 2 x 24-Segment LED
Input Pad: -20 dB
Input Polarity: Normal/Reverse
Dynamic Processing: Input Channels: Compressor, Gate. Buses, Master: Compressor
EQ: Input Channels: 4-Band Parametric. Output Buses: 31-Band Graphic, 4-Band Parametric
Filters: Input Channels: High-Pass
Solo/Mute: Solo, Mute per Input Channel, Bus, FX Bus, Master
Built-In Effects: 4 x Stereo Effect (Type Unspecified)
Automatic Mic Mixing: None
Sample Rates: Up to 96 kHz
Bit Depth: 24-Bit
DSP: 56-Bit Floating Point
Converter Dynamic Range: 112 dB
Word Clock Input: 48 to 96 kHz
Latency: < 0.66 ms
dBFS Reference Level: +4 dBu = 0 dBFS
Frequency Response: Mic/Line InputLine : 20 Hz to 40 kHz +0/-1 dB (at 96 kHz), 20 Hz to 20 kHz 0/-0.5 dB (at 48 kHz)
Max Input Level: Mic/Line Input: +32 dBu at Max Gain (PAD=Off, TRIM Min). Mic/Line Input: -62 dBV at Min Gain (PAD=Off, TRIM Max)
Output: +24 dBu
Analog Dynamic Range: 108 dB at Min Gain
Headphone Output Power: 1/4": 100 mW per Channel into 32 Ohms (Max)
I/O Impedance

XLR Line/Mic Input: ≥ 5 Kilohms
Stereo RCA Input: 10 Kilohms
XLR Output: 100 Ohms

Crosstalk: ≥ 100 dB at 1 kHz (Sine Wave, JEITA)
EIN: XLR Mic Input: -128 dBu at Max Gain
THD: < 0.002% at Min Gain (+4 dBu)
Signal Generator: None
Analog Inputs:

16 x XLR 3-Pin Balanced Mic/Line Input
8 x 1/4" TRS Balanced/Unbalanced Line Input
2 x 1/4" Unbalanced Insert Insert
1 x XLR 3-Pin Balanced Talkback Input
1 x DB-25 25-Pin Alt Input
2 x Stereo RCA TS Stereo 2-Track Input

Analog Outputs:

16 x XLR 3-Pin Balanced Main/Bus Output
2 x XLR 3-Pin Balanced Monitor Output
1 x 1/4" TRS Headphone Output

Phantom Power : +48 V
Digital I/O:

1 x RJ45 Ethernet Input/Output (Network)
2 x RJ45 Dante Input/Output (I/O, Network)
2 x BNC Input/Output/Thru (Word Clock)

MIDI I/O: None
USB:

1 x USB-B (Host Connection)
1 x USB-A (2-Track Record, Audio Playback, External Memory)

Expansion Ports: 1 x I/O Card
Wireless Connectivity: None
Mobile App Compatible

Yes: iPadOS Only
App Name: Sonicview Control
Functionality: Adjust Settings, Remote Control, Setup, View Live Feed
*As of January, 2023: Check with manufacturer for the most up-to-date compatibility

Max Multitrack Recording: 32 Tracks
Media Support: SD, SDHC, USB Drive
Max Media Storage Capacity:

SD: 32 GB
SDHC: 128 GB
USB: 128 GB

File Format Support: Playback: AAC, MP3, WAV
Record: WAV
File System Support: FAT32, exFAT
OS Compatibility:

Windows 10 to 11 (64-Bit Only)
macOS 10.15 to 12 (64-Bit Only)
*As of January, 2023: Check with manufacturer for the most up-to-date compatibility

Required Hardware: None
AC Input Power: 100 to 240 VAC, 50 / 60 Hz
Power Consumption: 65 W
Lamp Power: 12 VDC
Rack Mountable: Yes
Dimensions: 18.6 x 9 x 21.8" / 47.2 x 22.8 x 55.4 cm
Weight: 28.7 lb / 13 kg
Tascam SONICVIEW 16XP Downloads
Manual - As of 2/23/2023

Product documents are provided as a courtesy and may not reflect the most up-to-date information. Please contact us for the most up-to-date information.