Built Upon Legacy and Innovation, Taking Your Mix to the Next Level
With an intuitive user interface, compact design and a comprehensive suite of powerful features, the DM7 Series mixers represent a major step forward in the evolution of form, functionality and flexibility, making them unmatched by other mixers in their class in a wide range of audio environments and performance that surpasses others in the form of broadcasting, streaming and music production to live hybrid events and concert performances, the advanced features of the DM7 Series stay true to Yamaha's sonic heritage of "natural sound" while setting new standards in ease of use and workflow. As times continue to change, the DM7 delivers an edge with a user experience unmatched in its class and sound performance that far exceeds audience and engineer expectations.
The DM7C is a compact professional Dante-enabled single-bay 72-channel digital console that can be rack mounted alongside the RK1. It gives users the tools to ensure they put together the perfect mix, even for the shortest soundcheck. The DM7C supports a sample rate of 96 kHz and features a high resolution 12" multi-tough screen combined with 16 faders and an additional 7" screen. Includes an internal dual power supply and an 18x18 audio interface that works with Yamaha's his VST-RACK. With DAW remote control and AI support, DM7C is the perfect console for live sound, theater, broadcast and corporate AV.
Yamaha DM7C Features:
Renowned Yamaha Sound with 96kHz sample rate
2x High-Res Multi-touchscreen 12", 1 x High-Res 7" Touchscreen
Consistent User Experience
72 Mixable Channels Into Dual Bay, 16-Fader Digital Mixer
48 Mixes, 12 Matrixes, 2 Stereo Buses, 2 Cue Mixes
16 world-class Mic Preamps, 16 convenient Analog Outputs
Built-in DSP
64 Assignable Premium Processing Slots, 16 Assignable Yamaha FX slots, 4 Assignable Inserts Per Channel
144 x 144 Dante interface
18 x 18 USB audio interface that works with Yamaha's VST Rack
DAW Remote Mode with Transport Control
AI assist features adapts functions to your workflow
Split mode for single engineer performing more than one task
Internal dual power supply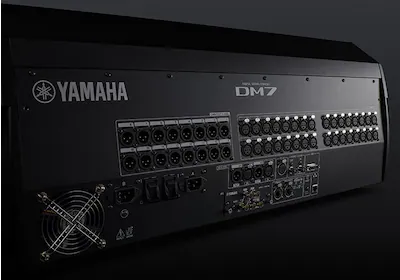 Signature Sound In and Out
The ideal starting point for recording and sound creation is a transparent signal. This concept is exemplified by the DM7 high-end input section, which are meticulously designed from components, power supply, grounding, circuit layout, and mechanical structure of the inputs. To further reiterate, high-resolution sound quality is supported up to 96kHz.
Powerful Channel Strip
The DM7 series Channel Strip is packed with a variety of features for intuitive processing. In expansion to the Channel EQ from the RIVAGE PM, the recently included FET Limiter and Diode Bridge Compressor offer all the dynamic control you need, while the "History" feature combines with the existing comps and gates for less demanding and more finetuned dynamic control than ever. The "Mix Balance" parameter is however another new function that lets you effectively blend the initial sound with a compressed sound for parallel compression. You can also rearrange the order of EQ and Dynamics to suit your needs precisely.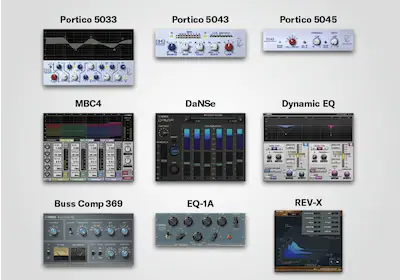 Extensive Plugins and FX
You have an extensive suite of FX at your fingertips to accommodate a wide range of uses. The esteemed VCM models of the Portico 5033 EQ and Portico 5043 comp/limiter are included and both developed closely with Rupert Neve Designs. Yamaha's DaNSe dynamic noise suppressor, Dynamic EQ and high-grade reverb plugins like REV HD and REV R3 are included to inspire audio engineers to cultivate their creativity.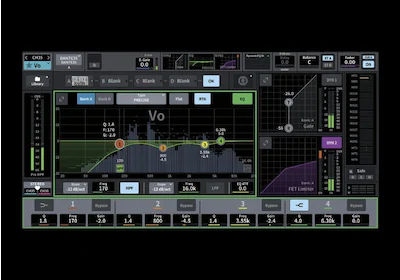 Advanced GUI
The DM7 series has an advanced user interface, which offers ultimate touch operation for your convenience. The functionality is instantly intuitive and with Selected Channel View, a list of operational information is easy to navigate for the channel strip.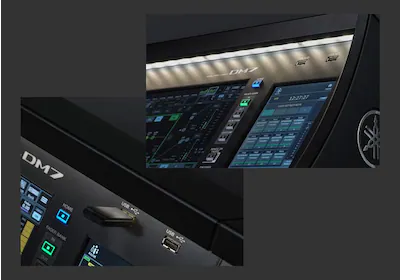 Functional Layout
If you're having issues in dimly lit venues, the DM7 strip lights illuminate the fader surfaces to help you stay on top of your workflow. Other consoles in the past have this feature, but the DM7 designed the side pad connecting the strip light and fader surfaces with a smooth curve, to create a sense of unity instead of protrusion. The shape of the side pad prevents any light leaking from the strip light while functioning as a guard to prevent accidental contact with USB sticks, knobs, etc.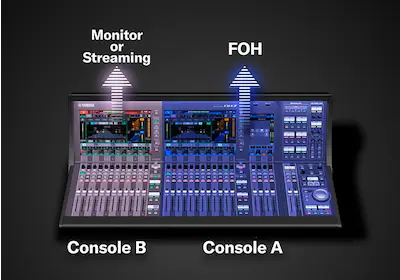 Split Mode
Split Mode allows you to utilize one mixer as if it were two. Let's say you only have one DM7 series console due to space concerns, you can still mix FOH and Monitor, or FOH and Streaming, etc. just as you would with two separate consoles.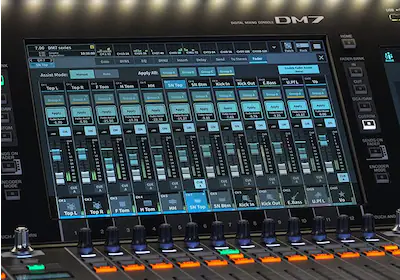 "Assist" Function
The DM7 series newly added "Assist", is an efficient function that handles important and procedural tasks, allowing operators to focus on their workflow. This suggests HA adjustment, naming, and balanced fader levels to help audio engineers focus on creative work and communication, giving a more streamlined setup and preparation time. The HA Assist suggestions continue to evolve based on your feedback and recommendations.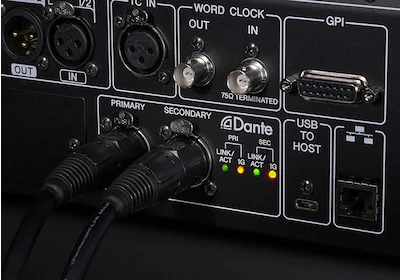 Dante Capabilities For High Channel Count
The DM7 series offers 144ch in/out via Dante, a combination of software, hardware and networking protocols which has become an industry standard. HA Remote and device control are supported, and the Device Mount function allows for quick patching and control with Dante enabled equipment.
Versatile USB Connection
The DM7 series USB Type-C connector provides 18 in/out functions for recording, streaming, playback, and connection to conferencing systems. MIDI Control and DAW Remote features also expand your toolbox and promote a streamlined workflow.
DAW Remote
The DAW Remote function gives you control over volume, playback, stop, and more, to be performed utilizing physical controllers such as faders and keys, giving smooth operation for all recording applications. This mode can be accessed by pressing fader bank DCA and selecting DAW Remote.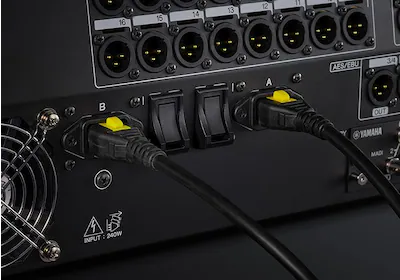 Reliable Power
Worry less about power failure with the built-in dual power supply units. This reduces the risk of power loss as operation will continue if any problems occur with one power source, as the second source remains active.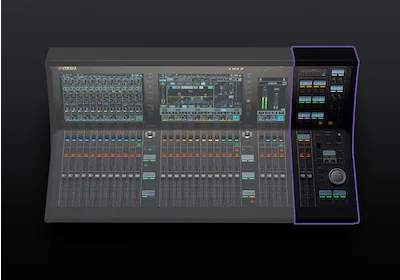 DM7 Control Expansion Controller
A DM7 Control can be attached to any DM7 console via Ethernet cable and operated as one mixer.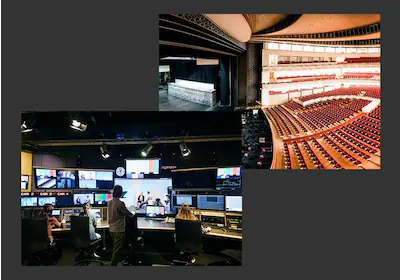 Broadcast Package and Theatre Package
Valuable, specialized features can be accessed by adding the Broadcast Package/Theatre Package. The Broadcast Package includes 5.1 surround support, Mix Minus, Loudness Meter, and other functions required for broadcast applications and used conveniently in broadcast mixes.
The Theatre Package provides features that can be used effectively in musicals and other theatrical applications, including Actor Library, DCA Scene Grid, AFC Image Control, and other functions which can enhance mixing in theatrical applications significantly.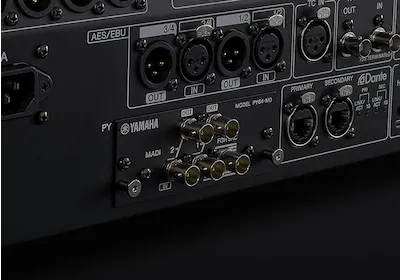 PY Slot For Expansion
The DM7 series is equipped with an up to 64 in/out PY slot that allows users to customize the console's functionality and connectivity. The PY64-MD, which supports 64-in 64-out audio input/output via MADI, the PY8-AE with 8-in 8-out AES/EBU D-sub 25-pin connector, and the PY-MIDI-GPI, which has a DIN 5-pin and D-sub 15-pin connectors to expand MID/GPI control terminals, all providing flexible support for a variety of systems.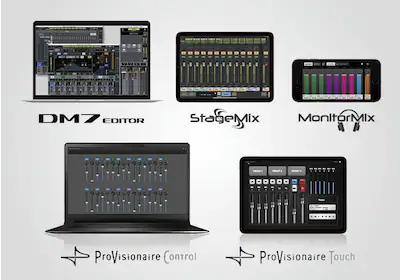 Compatible Software
The DM7 series offers dedicated applications DM7 Editor and DM7 StageMix, as well as the Yamaha applications MonitorMix, ProVisionaire Contol, and ProVisionaire Touch. The DM7 series is also equipped with an OSC (Open Sound Control) Server function, allowing control of the DM7 series from OSC-compatible devices.
Type: Digital Mixer
Channels: 72
Inputs - Mic Preamps: 16 x XLR
Phantom Power: 16 Channels
Outputs - Main: 16 x XLR (main)
Outputs - Other: 1 x XLR (AES/EBU)
Inputs - Digital: 2 x RJ-45 (Dante)
Outputs - Digital: 1 x XLR (AES/EBU)
Busses/Groups: 48 mixes, 12 matrixes, 2 stereo buses, and 2 cue mixes
MIDI I/O: 1 x 15-pin DIN (GPI)
Data I/O: 2 x Locking Ethernet (Dante network), 1 x RJ-45 (control)
Headphones: 1 x 1/4"
USB: 1 x Type C
Computer Connectivity: USB (18 x 18), Ethernet
I/O Expansion Slots:1 x Slots Available
Word Clock: 2 x BNC (in/out)
Faders: 16 Motorized
A/D Resolution: Up to 24-bit/96kHz
Signal Processing: 64 Assignable Processing Slots, 16 Assignable FX Slots, 4 x Inserts per Channel
Features: A.I. Mix Assistant
Transport Controls:Yes
DAW Control: Yes
Screen: 12" touchscreen, 7" touchscreen
Software: DM7 Editor, DM7 StageMix, Console File Converter, MonitorMix, ProVisionaire Control/Touch
Power Source: 2 x Standard IEC AC Cable (redundant power supply)
Height: 12.75"
Width: 18.42"
Depth: 22.2" (including rubber feet)
Yamaha DM7C Downloads
Manual - As of 6/7/2023

Product documents are provided as a courtesy and may not reflect the most up-to-date information. Please contact us for the most up-to-date information.